it was 2am saturday night/sunday morning when i reached my bed, 27 1/2 hours after waking up in a hotel in vienna.
we had quite the adventure friday night, after flying in from pristina. we told johnny we were going to take him out for food and drinks as a token of our appreciation. he didn't exactly argue. so i got train instructions from the girl at the front desk, and we set off for the city centre. keep in mind she wrote down our destination name and the train we would change to, and after asking her which directions they go and her telling me there's only one train to wien mitte and once we get there there is a map, i thought we were clear. we got a taxi to the train station (only a few minutes away but it had very recently snowed and was below freezing) thinking we only had a few minutes to spare. the girl told us the train would be there at 6:15pm - a good 45 minutes after we were ready to head out, so we waited. "that's not very often...?" i inquired, but she shrugged it off and/or didn't understand me. we got there at 6:10 but still waited 20 minutes at the "station" - which consisted of a ticket machine and a few benches - sliding around on the ice and stomping and singing to keep warm.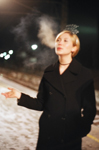 finally the train arrived and we hopped on. just as the doors closed we looked out and saw another train arriving, going the opposite direction. we all looked at each other, knowing this was wrong. we made it to the next stop and i looked at the map and discovered yes, we were on the wrong train. a nice english-speaking gentleman came along and advised we get out and just wait for the next train. the station was even more deserted than the one we'd just come from. one bench, a lot of snow, nothing else in sight, and 45 minutes to wait. i asked if we could just catch a taxi. he nearly laughed at me. "not here," he said. we got back on the train. he told us the next stop had a waiting room. yeah, if by waiting room you mean roof. this stop had a ticket machine, a bench, and a roof. 35 minutes we waited in that cold, and i wondered what the heck is with the public transport in vienna, and what exactly it takes to get frostbite. johnny was wearing converse sneakers. nikki lay across us like a blanket, entertained us by peeling a giant sticker that said ATR off of something and then twirling in the snow. johnny was busy freezing to death.
when we were at last on the train again, going the right direction, we came to the sad conclusion that it was too risky to try to make it all the way into the city when we might get stuck somewhere in the snow again. plus all we really wanted was food in a warm environment. so we went back to our original stop, cos nikki said she'd seen a pizza place. turns out the pizza place was reserved for a party, and they weren't very friendly anyway. we happened upon another restaurant close by, where they had great food, were kind, and even spoke english. apple strudel. ohyes. it's just too bad what we got to see of vienna was ... absolutely nothing but desertion and snow. oh, and some strange, plastic, knee-high hamburger thing that pam got a picture of.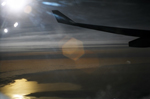 7:30am we were up, then off to the airport an hour later. my cold decided it would be a really convenient time to move from my throat to my nose. 9 and a half hours to JFK in NY. i slept for 6 of them, but only after swallowing a benedryl. oh, and flying over northern ireland. the sky was pink and purple and the sun was shining brightly off the water. coincidentally, i was listening to a U2 bootleg and happened to hear not only a sort of homecoming, but sunday bloody sunday. perfect.
flying into JFK was beautiful, and once on the next plane i took another benedryl and slept the entire way home (6 hours).
being in kosovo makes so much more sense than being "home". dry, drab, meaningless. i want so much more.