NEWS

10 December 2011 -- Stevi
EXIT finds Stevi, a great singer and all around fabulous chick. The writing of new music begins!





14 February 2011 -- Jessie
Pam meets singer Jessie in a local market and Affa joins in again on bass. She turns out not to be The One, and so the search continues..





19 January 2010 -- Busking!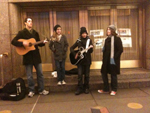 Courtney and Lissie, along with friends Emma, Andrea, and more experienced busker Jason, take to the streets of New York City, armed with guitars and their loudest voices to raise a bit of cash for Doctors Without Borders. There is something quite exhilarating about singing to passersby - you might wanna keep an eye out for the two EXITs now that they've got a taste for it!





16 January 2010 -- City of the Blues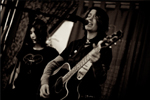 Friend Andrea throws a birthday party at The Leadway in her home town of Chicago, inviting Courtney and Lissie ("EXIT-lite") to perform, along with her pal Tari Follett. Check out Zoran Orlic's fantastic photos and see more from the night here, with words and video from the great Shannon.





15 August 2009 -- The Unveiling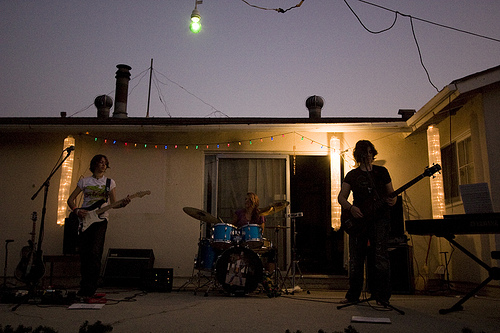 EXIT hosts a party at the Casa de Salida to test the gigging waters in their new incarnation. Friend and pianist Aiyana Cadwell plays a warm-up set and jams out for Beneath the Quiet and the first ever performance of Fall to Rise. A successful night is closed out with two very friendly cops who are confused as to why they've been called, and an ensuing dance party of awesomeness. Thanks to all our friends and family!





15 May 2008 -- Happy Birthday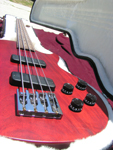 Everybody loves Lissie so they bought her this. Thanks, everybody!! !








April 2008 -- EXIT IS DEAD - LONG LIVE EXIT
We thought this 'new chapter of EXIT' business was over, but we were wrong! Affa has stepped out, and friend and fellow duck Lissie has hopped on board for four-string-plunking and vocal duties.



January 2008 -- A New Direction for EXIT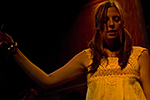 Due to recent vocal problems, Trevi has made the decision to take a step back from singing in order to heal herself. We thank her for sharing her talent and great sense of humour with us for the past three years. We will miss her and wish her all the best.





7 June 2007 -- Give It Up video now available
EXIT's recently cut "Give It Up" video has been completed and is available here for your viewing pleasure.



14 January 2007 -- EXIT shoots first music video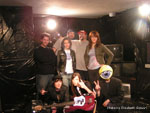 With director Quinn, cinematographer Chris, and Matt and webmaster Dave as extra hands (and extra... eye?), EXIT shoots a video for Give It Up. The process takes two days, one for setup and one for filming, and though it's hard work it's also a blast for all involved. The editing process will take some time but the video will be available here soon!



6 January 2007 -- New EP makes its radio debut!
Todd Richards of WBWC Cleveland premieres Give It Up on his show Running Late, then has Courtney on the air for a brief interview afterwards. Like Fire is played for the first time on the 13th. Thanks, Todd!

15 December 2006 -- CD Release

EXIT's EP is hot (off the presses)! The band celebrates its release with a gig at Rusty's in Santa Monica. The EP is available through CD Baby here or you can pick one up at the next EXIT show. Samples of the songs on the EP can be heard on the music page.




19 October 2006 -- EXIT likes cupcakes

30 September 2006 -- EXIT in the studio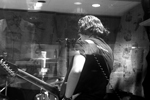 EXIT spends the weekend in Castle Oaks studio recording with German producer Sebastian Haimerl. The four track EP includes January Sky, Give It Up, Like Fire and Wish You Could Know. Michele Lanyzs' pictures of the process can be viewed on the photos page. Mixing is currently underway and release is set for early December. Stay tuned for info on how to get your hands on a copy.

28 August 2006 -- EXIT in Iowa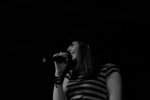 EXIT plays two nights in Council Bluffs, IA, marking Trevi's first performances with EXIT in her home state. The gigs last four hours and with crowds full of Trevi's friends and family the reception is grand. Check out photos on the gigs page.





25 February 2006 -- Straight Outta Chatsworth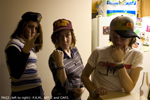 Affa, Courtney and Pam form Southern California's newest gangsta rap trio, PAQ3. "Why you gotta be all up in my grill, tryin' to take my Kool-Aid, when you don't even know what the flava' is."
--AFF-Z




9 February 2006 -- EXIT plays in Mississippi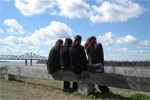 EXIT plays four nights in Vicksburg, MS - the band's first out of state gig with Trevi. It proves to be a great experience for them, playing three sets a night four nights in a row at the Ameristar Riverboat Casino. The Vicksburg Post runs an article with a colour photo headlining the town's entertainment section, which can be seen here. The band also got to spend some time by the Mississippi River - check out some pictures on the photo page.

9 November 2005 -- Courtney joins U2 once more, U2 dedicates song to EXIT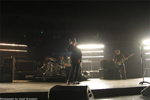 Oakland Arena, Oakland, California: Bono notices Courtney in the crowd once again and gives her his tambourine. Courtney is brought on stage and joins U2 for a performance of Fast Cars. She returns to the crowd and U2 ends the concert with Bad, dedicating the song to the girls of EXIT. U2.com reports in on the night as well.

1 November 2005 -- EXIT joins U2 on stage!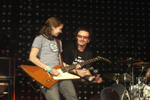 Staples Center, Los Angeles, California: Situated just outside the ellipse at the night's U2 concert, EXIT is spotted by Bono while holding a sign that reads "Bassist Singer Guitarist Drummer" over "The Girls Play Rock and Roll". U2 finishes All Because of You at the start of the second encore, Bono announces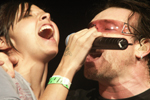 "it pays to advertise" and pulls Pam, Trevi, Courtney, and Affa up from the crowd. The girls of EXIT take the instruments from the boys of U2, including the Edge's Gibson Explorer, and perform Out of Control in front of the sold-out crowd of 20,000 people! The first verse finishes and Bono and the Edge join EXIT in performing the rest of the song! More images of this event can be found here on the site. Be sure to check out the U2.com write-up of the night as well.

27 June 2005 -- Courtney and Pam on stage with U2!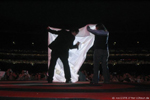 Croke Park, Dublin, Ireland: Bono spots Courtney in the crowd and they share a moment during Where the Streets Have No Name. He then notices a banner an audience member is holding up that reads,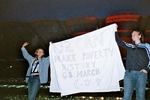 "U2 CAN MAKE POVERTY HISTORY, G8 MARCH, COEXIST", referring to the rally to be held a few days later. Bono motions for Courtney to join him onstage to help him with the sign, then before rejoining the band for One brings Pam up to take his place, leaving the two of them to spread the message to the 82,000 people for the entirety of the song. A video clip of this moment can be downloaded here.

08 May 2005 -- EXIT launches a new website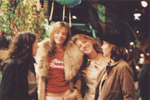 This website marks the beginning of the next era for EXIT. Armed with a brand new singer and new songs, the band is ready for what's next. Look out for gigs this summer and, in the meantime, enjoy the site.
We'd love to get your feedback - feel free to contact us with any comments or suggestions.

13 Nov 2004 -- EXIT finds new singer
Following the band's second instrumental show, EXIT strikes gold with Trevi Fligg. Trevi answered their 'singer wanted' ad on the internet, and was intrigued enough after seeing the November 5th show to come audition a week later. The band are blown away by the power of Trevi's voice and the soul with which she sings. Things feel right and the decision is made - Trevi is the new voice of EXIT.

09 Oct 2004 -- EXIT plays first instrumental show
After many months of auditioning singers, EXIT misses the stage and books a few gigs as a three-piece. The songs have been reworked instrumentally and the shows end up being quite successful. With the focus just on the music, they have honed in on their sound and are tighter dynamically. But, EXIT is not EXIT without a voice, so the search for a new singer continues.

05 Jul 2004 -- EXIT gets new gear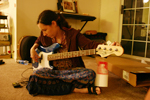 Courtney, Affa, Pam and friends head down to the Guitar Center in Hollywood to purchase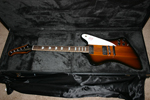 drum supplies for Pam and to spend some time pining over the vintage guitars and basses. After a few hours, Pam walks out with her drum sticks and drum heads, Affa with a new Fender Precision Bass, and Courtney with a Gibson Firebird. The spontaneous purchases effectively add a new layer to EXIT's sound and inspire a few new songs to boot.