ENTER #7 -- 5 dec 2003
Happy Christmas, Hanukkah, Kwanzaa, Winter Solstice, Festivus, New Year and Boxing Day to one and all!
The end of the year is traditionally a time for reflection on all that has taken place in the previous twelve months. And there is plenty to reflect upon in EXIT-land. But first, please accept this invitation to what is sure to be one mutha of a bon voyage party.
As you may know, Pam, Nikki, Captive and Affa will be spending their holidays far from home this year. They have been asked to perform for US & NATO Armed Forces personnel stationed in the Balkans. They will be bringing some much-needed ROCK to those men and women in uniform later this month. They'll be playing Bosnia on Christmas Eve and Day; then off to Kosovo for New Year's. They are sure to return with stories and photographs from this incredible adventure. But before they make their way to the other side of the world, how about giving them a send-off to remember.
Date: Saturday, 13 December 2003
Time: 11:00 pm
Place: Molly Malone's Irish Pub, http://www.mollymalonesla.com/
Address: 575 South Fairfax Avenue, Los Angeles, California
Phone: (323) 935-1577
Etc: 21 and over/$5 cover
Come on Malibu Stacey, the math isn't that hard:
1 Rockin' Irish Pub
+ 4 musicians on the verge of kickin' it intercontinental stylie
+ 1 or 2 U2 covers thrown in for old time's sake
= a straight-up party, sure to end the year with a bang.
*
And what a year it was. Let's take a moment to look back at the highs and even-highers of 2003, shall we?
EXIT's first demo was completed and released in May. Within weeks, it had received rave reviews and radio airplay in the not-to-be-underestimated Cleveland market. The band were in town to play the Hard Rock Cafe and oh yeah, also The Freakin' Rock and Roll Hall of Fame and Museum to celebrate the opening of an extensive U2 exhibit (sponsored by Larry's-Inability-To-Ever-Throw-Anything-Away-EVER). In November, EXIT went internacional as they and fans from near and far partied it up at the Inaugural InTo the Heart- U2 Fan Fest. Next stop, Sarajevo...
*
So what does 2004 have in store for the fab four? (Please forgive me, I've clearly been reading too much Dr. Seuss.)
How about some new originals, a new demo and new promo materials? The band recently wrapped up some time in the studio putting the live favorite "Or Die Trying" on tape. Coming Soon to an Official EXIT Website Near You. That would be http://www.exit-band.com, in case your computer has recently crashed and erased your bookmarks. Check out the shows section for pics of the Toronto show. And speaking of pictures, they say one is worth a thousand words. So here's about 2k for ya, from Captive and Affa's visit to Ireland last month: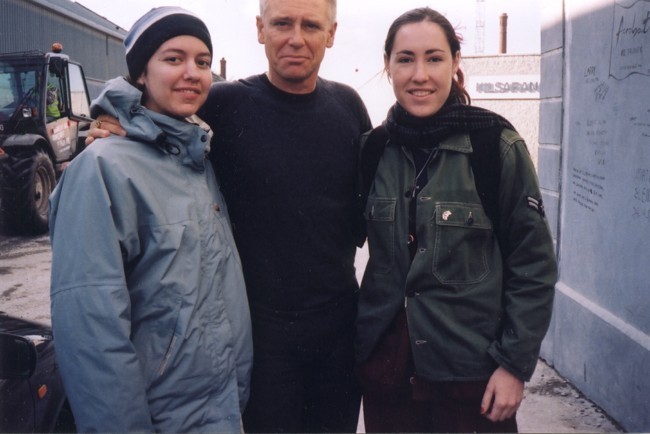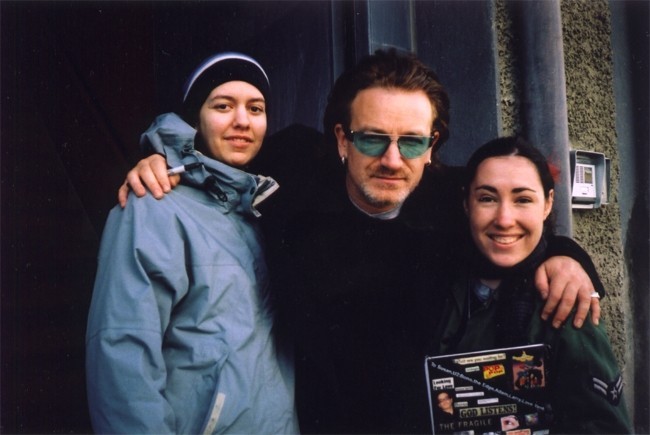 Here's what Cap had to say about the experience:
it had been our dream for quite some time to see the inside of U2's hanover studios in dublin. and apparently, if you say enough times that something is going to happen, it will. i thought i could never feel as much joy as i did the night bono pulled me onstage to play guitar with U2, but it was nearly matched when he not only remembered my face, but the experience that we shared in the staples centre in november of '01. he (and adam) were kind enough to interrupt their work to come outside and sign autographs for affa and two italian girls that were waiting with us that day. then to our delight bono actually said the words, "i would love to show you the studio quickly." he brought us into the recording room, which was cluttered with instruments, mic stands, music stands, you name it. unbelievable. i think he could sense how much it meant to us, or he wouldn't have made the effort. we are blessed!
*
So 2003 was a banner year for EXIT. But it could not have been such a success without all of you. Seeing your faces at the gigs, reading your emails and comments in the guest book, and chatting with you at the shows...these are moments that the whole band are grateful for. So, from Affa, Nikki, Pam and Captive, and the rest of the EXIT team, we say thank you for the support you give us to pursue our dreams. All the best to you and yours in the coming year...